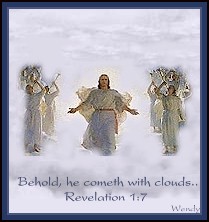 Christians today continue to believe that the earth, as we know it, will end within their lifetimes. Each event occurring is held up in scrutiny and measured to the prophecies foretold by Jesus in the four gospels or the Book of Revelation written by St. John during his exile on the island of Patmos in the New Testament. We are hearing more and more talk about happenings that point a collective finger signaling the end. These signs include political unrest, rumors of wars, bad financial times, famines, relaxed moral attitudes, and even the fact we are getting too close to scientific discoveries which many feel should be left alone.
"God is tired of all this sin" is the litany we often hear and sometimes voice ourselves. Even though we have almost passed through the pivotal and so called prophetic year 2000, this belief lingers just as strong. Some people have become fearful and afraid just reading about the prophecies in the Bible. Talk of the Tribulation, the Rapture, and the anti-Christ continues to cause great concern and unrest among those who are uncertain of their worthiness to meet our Lord.
Are we really in the last days?
This is not a new theory but one that has been going on for at least two thousand years with each succeeding generation taking up that expectation. After Jesus left His disciples to return to His Father, the disciples kept the belief that Jesus would come back during their lifetime. Christians in the early church lived their lives in anticipation of the Savior's imminent return. Even Saint Paul at that time encouraged the church of Thessalonica to believe in an immediate coming so they sought to gain as many souls for Christ as they could while there was precious time. Reading Matthew 24:42, Jesus states "Therefore keep watch, because you do not know on what day your Lord will come." Jesus also tells in Matthew 24:44, "So you also must be ready, because the Son of Man will come at an hour when you do not expect Him." And again in Matthew 25:13, "Watch therefore, because you do not know the day or the hour". Christ Himself is constantly telling us to be ready. Because of this foretelling it was generally taken for granted that the time would be short and He would come back to earth without warning. There are those of us today who feel His coming is long overdue and we are on the precipice of this time.
There is a prophecy found in Matthew 24:27-31 when Christ says, "For as lightning that comes from the east is visible even in the west, so will be the coming of the Son of Man. Wherever there is a carcass, there the vultures will gather. Immediately after the distress of those days 'the sun will be darkened, and the moon will not give its light; the stars will fall from the sky, and the heavenly bodies will be shaken. At that time the sign of the Son of Man will appear in the sky, and all nations of the earth will mourn. They will see the Son of Man coming on the clouds of the sky, with power and great glory. And He will send His angels with a loud trumpet call, and they will gather His elect from the four winds, from one end of the heavens to the other."
With modern passage of time some of us have become circumspect in our beliefs. There are those who do not feel the pressure of this issue. Because some people believe the prophecies are yet to be fulfilled they think there is sufficient time to repair and amend their spiritual lives. Just as in Noah's day when Noah warned everyone of the impending flood, some of us are inclined to live for the present, losing the opportunity to establish a firm friendship with Our Father in order to gain eternal life.
Will we be able to recognize the signs that Jesus speaks of in the Bible?
Recognition of the signs that Jesus spoke about seems to surround us. Perhaps we give these horrendous occurrences more credence than we should since we do not have the yardstick by which God measures the magnitude of such things. We become paralyzed with fear when we hear of world events causing extreme damage in the world but whether this is the beginning of the end we do not know. New diseases that were unheard of 20 years ago are making news. And we shudder when we see children dying of hunger in front of our eyes on our television screens. We see bombs going off and innocent people blown apart. Earthquakes seem more frequent and in places where they did not occur before. But we cannot wait for what we believe are signs that point to the end of the world because Jesus was very specific in saying none of us know when that time will come. Since we must believe this is true we must not wait to pursue our spirituality. We must be watchful, diligent and be prepared as if the signs are happening now. The only firm reality that remains constant is our belief in what Jesus taught and that is to have faith, have trust and to stand firm in the face of adversity; the great truth being that Christ promised never to leave us alone and should Jesus come to us during our time here, He will be coming to take us to His Father for safekeeping. It is the culmination of everything we believers seek through Christianity… the final chapter played out on earth before joining the Father in eternal happiness.
In Mathew 24:3-8, Jesus sat on the Mount of Olives and His disciples came to Him asking "Tell us, when will these things be? And what will be the sign of Your coming, and of the end of the age?" And Jesus answered and said to them: "Take heed that no one deceives you. For many will come in My name, saying, "I am the Christ," and will deceive many. And you will hear about wars and rumors of wars. See that you are not troubled, for these things must come to pass, but the end is not yet. For nation will raise against nation, and kingdom against kingdom. And there will be famines, pestilences, and earthquakes in various places. All these are the beginning of sorrows. In Hebrews 9:27-28 it is stated "just as man is destined to die once, and after that to face judgment, so Christ was sacrificed once to take away sins of many people; and He will appear a second time, not to bear sins, but to bring salvation to those who are waiting for Him".
It is natural for us to become fearful when we read or hear about events out of the ordinary. We become vulnerable. And perhaps it is because we feel we are not worthy enough or ready to stand in God's Presence. We feel we need more time to prepare ourselves. But as we sit and ponder this, each minute is one in which we can rectify whatever it is that keeps us apart from God and eternity. While we still have the breath of life within us we can choose to remedy this situation and dedicate our lives to Him, following the paths He wants of us. If we have sinned and feel unfit, seeking forgiveness is the most important step in being ready to receive the Lord.
Even the angels spoke of Christ's return. Following His ascension into Heaven, angels proclaimed to the apostles where He had gone and promised, "Men of Galilee", they said, why do you stand here looking into the sky? This same Jesus, Who has been taken from you will come back in the same way you have seen Him go into Heaven." (Acts 1:11) And so, with the angels and assurances made by Jesus Himself we know He will come back again.
Does this mean we cannot be happy in this life? No, it does not. God wants us to experience all the good things He has provided for us. But our greatest joys in this life are small samples of the great joy we will feel when Christ returns to take us to the Father. The coming of Christ will be the ultimate gift of existence, the fulfillment of all we have hoped for but could not have on earth because of the limitations and imperfections of our earthly bodies. Our happiness will be magnified countless times, our bodies replaced with ones that will never hurt, feel pain or death again and we will reign in perfect happiness forever. In Mark 13:32-37 it reads "No one knows about that day or hour, not even the angels in heaven, not the Son, but only the Father. Be on guard! Be alert! You do not know when that time will come. It's like a man going away: He leaves his house and puts his servants in charge, each with his assigned task, and tells the one at the door to keep watch. Therefore keep watch because you do not know when the owner of the house will come back - whether in the evening, or at midnight, or when the rooster crows, or at dawn. If he comes suddenly, do not let him find you sleeping. What I say to you, I say to everyone: 'Watch!'
The Coming may happen at any moment, and without warning. Every one of us who has faith and genuine trust in Christ and who are still alive at this time will be taken to meet the Lord in the air (1 Thess. 4:17). Those believers who have suffered physical death will be resurrected at this time and all will receive perfect spiritual and eternal bodies as they enter Heaven with Jesus Who will wipe away all the tears from our eyes and there will be no more death, neither sorrow, nor crying" Rev.21:4.
Should we be concerned about the Second Coming of Christ?
Here are the reasons we do not have to concerned about the Coming of Jesus Christ. God's demand for justice has been paid for by Jesus. Because of our Savior all our sins have been cast away; our sins purified. The torn fabric of sin was made whole through Grace. We have been pardoned for every single sin we have committed and with His blood He has paid the price for all of us who accept His love through faith. And so, with His coming we are ready. It will be the culmination of all that we have prepared for and all we have held dear in our hearts with anticipation. If we have been using our time on earth to do God's will, keeping ourselves cognizant of God's laws, if we are confident in our Christianity with the trust that someday we will be going to Heaven, we do not have to be concerned about the end times, for when the angels blow their trumpets signaling the end of the earth, we will look up eagerly, anxious to see Jesus face to face. We will be welcomed within the bosom of our Father. We will receive our golden crowns as royal heirs and will be given a key to the Holy Kingdom of God.
He Who testifies to these things says, "Yes, I am coming soon." Amen. Come, Lord Jesus, Come! Revelations 22:20
________________________________
I would like to hear from you concerning this article or any of my articles. Please use the Comments/Mailing Link at the top left of this page.