WHAT IF THERE WAS NO JESUS?

Kathy Bernard - Publisher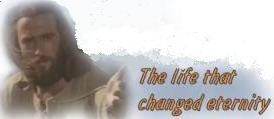 "If Jesus is with you no enemy can harm you". (Romans 8:31)




Have you ever wondered what the world would be like without Jesus?
Most of us remember the tragic happenings of September 11, 2001. It was so atrocious and unbelievable most of us went into shock. The normalcy of that September morning changed abruptly when countless lives were taken without warning in terrorist attacks perpetrated against our country. These acts changed the whole world on this fateful day and pointed out to us the helplessness of men against the forces of evil. For some it was then that God became visible; it was then that Jesus became the focus of America's attention for a short time, then fizzling out as time dulled the trauma of this cruel disaster.
What exactly is our purpose here? Perhaps we can say that we all get a turn to be born, live, persevere, growing to an age of maturity and slowly head toward the exit of our lives. But is this the whole of it? Maybe we do not question the catastrophes that befall us, the sickness, and loss of loved ones, the struggles, the wars, the famines, and the atrocities we face. We learn from an early age to be self-sufficient and allow this thinking to carry over in all walks of our lives. And because we are a nation of "fix it yourselfers", many of us feel we can handle life issues under our own steam and power without spiritual help. With this thinking we are isolated, self-dependent and our sins will continue to multiply and become impossible to repair by ourselves. This mentality separates us from God.
Many years ago, I did not know Jesus. Being raised in a strict religious home, I knew about Him, read about Him, and had spent many hours of my life in churches with my family, but I did not have a personal relationship with Him. In times of fear, I called His name and even prayed each night to Him. But this was just a habit. A thing to do. But Jesus Who takes a strong and loving interest in each of us was not going to let this casual acquaintance thing continue without making Himself known as my Savior. And there were generations of prayers being prayed on my behalf. Jesus made His way to the forefront of my consciousness and I had to choose to accept or deny His existence. I can truly say this disrupted my life and my sanity for almost a year; day after day after day until I either had to heed this call or make it clear I was not interested. After all, God did give me free will. But there were no multiple choices. I chose to surrender my life to Him after talking it over with a priest who understood what was happening. Deciding to enter a relationship with Christ was the absolute finest moment in my life. I can never explain the joy and the closeness I was blessed with after I was accepted into His family. All my doubts and fears were swept away and I finally became whole; a new person. My destiny was set.
The name of Jesus has stood out among generations upon generations of people; a name that has not lost its power after over 2,000 years. Before Jesus came we were doomed as ungodly, a ruthless humanity with no direct connection to the God we serve today. The time preceding the coming of the Savior, we struggled with false idols, false teaching and often followed a path of debauchery and total destruction. We were on a fast road to hell with no savior in sight.
Without Jesus we live a bleak life of utter darkness. Some might say that this is not so for we rationalize that there are many ways we can enjoy the zest of life, many ways we can blot out loneliness and fear and suffering. But in the still of the night, in a moment of inner clarity, whom will you call, who will you pray to, who would know you intimately as Jesus does? Who really cares and wipes away your tears? Jesus is the only way to experience true peace, joy and satisfaction here on earth. Jesus is our entry key, our bearer who carries the invitation to salvation and eternal life. Loving us so much He embodied Himself in human flesh, He came to earth and died so He would not have to live without us for all eternity. He took upon Himself the punishment and wrath that we deserve.
If we do not have Jesus in our lives we cannot hope to get to God, for we cannot enter that perfection in our sinful state. Mother and father cannot help us, our clergy alone cannot get us there and all the saints are helpless unless we chose to humble ourselves by surrendering our lives to Christ. Without Him we cannot approach the throne of God's mercy. Without Jesus we could not understand or hear God's special word to us. And that word says, "I love you, and I always will." If we trust that love, let the peace of Christ, which is beyond all human understanding fill our minds we will experience the ultimate grace that He will give to us.
It does not matter how much money I have or what my statue in life is, I am nothing without Jesus. It does not matter where I was born, my educational background, who I know or who my parents are. If I can look beyond earthly standards I will see that I cannot make it without Jesus in my life. For Jesus is my everything. He is my rock when times are troubled. He is my staff against my enemies who harm me, my soft place when I need comfort. Consider the rich man who came to Christ to ask Him how he could be saved. This man had everything but he knew he lacked the one thing his money could not buy and that was the peace and joy of knowing Jesus. (Luke 18: 18)

In one of his homilies, Monsignor Dennis Clark, Ph.D., pastor of the Church of the Nativity in Rancho Santa Fe in California states: "It's hard to imagine what it would be like trying to get to know God and to give our heart to Him if Jesus had never come on this earth as one of us. How would we ever dare to call God our Father? How would we be so sure that He would forgive us and give us second chances when inevitably we sin? How would we know what we're supposed to look like and be like without Jesus as our model? It's so easy to forget what life without Jesus would be like, because the very first moment of our lives He HAS been there as our Brother and our Savior".
To be without Jesus is a lonely and barren hell, but with Him we are fulfilled in all things. "Look to Jesus, the author and finisher of our faith, Who for the joy that was set before Him endured the cross, despising the shame, and has sat down at the right hand of the throne of God." Hebrews 12:2. The only constant in life is Jesus Who never changes, never turns His back no matter what we are facing. The Lord Jesus said, "I will never leave you nor forsake you, 'Lo I am with you always, even to the end of the age, for I am Jesus, your salvation, and I will be with you even through death. ( Matt 28:20). "I will not leave you orphans; I will come to you." (John 14:18)
"You are my friends if you do the things that I command you. I will not now call you servants; for the servant does not know what his master does. But I have called you friends: because all the things I have heard from my Father I have made known to you
Please use the link at the top left of this page to leave a comment or to be added to the mailing list. Thank you. God bless.