TRUST IN GOD
CUT THE ROPE
Kathy Bernard - Publisher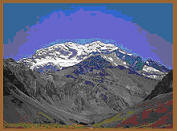 But when I am afraid, I will put my trust in you. I trust in God, so why should I
be afraid? What can mere mortals do to me? -Psalm 56: 3 - 11


Do you put your "TRUST" in the God of all possibilities?
It is interesting how we trust the people who surround us. We trust that the delicious food that we savor in restaurants will not harm us, we trust that the surgeons who operate on us are qualified, we trust that the banks will not steal from us, we trust there is safety for our children in schools, and when we go aboard a plane, we trust we will arrive at our destination safely, and the list goes on and on.
There is a story of a mountain climber who was desperate to conquer the Aconcagua. After years of preparation, he was ready for the climb. Now Aconcagua is the highest mountain in the Americas (22,841 ft) in the province of Mendoza, Argentina. Although other climbers offered to accompany him, he wanted the glory to himself. He started climbing. As he climbed it became later and later and soon began to darken. Unfortunately he had not prepared for camping, and his water flask was half empty, but he decided to keep on going.
It grew dark and night fell with a heaviness because of the high altitude. Visibility was zero. Everything was black. There was no moon, and the stars were covered by the clouds. The man became uneasy as he climbed, and tightened his grip on the rope. As he was climbing a ridge at about 100 meters from the top, he slipped and fell. Falling rapidly he could only see blotches of the darkness he passed. He felt a terrible sensation of being sucked in by gravity, and in those anguishing moments he thought certainly he would die.
But then he felt a jolt that almost tore him in half. But like any good mountain climber he had staked himself with a long rope tied to his waist. Suspended in the air in the stillness, he had no other choice but to shout out "HELP ME GOD. PLEASE HELP ME!" All of a sudden he heard a deep voice from heaven came and said... "What do you want Me to do?"
The man cried, "Save me. Please save me!!" God asked, "Do you REALLY think that I can save you?"
"Yes, my God, I know you can!" the man cried. God said, "Then cut the rope that is holding you up!"
There was a moment of silence and stillness as the man thought harder and harder. He kept holding tighter to the rope in fear.

The next day a rescue team found a frozen mountain climber hanging strongly to a rope only two feet off the ground.
Trust is a difficult thing for most of us when we find ourselves facing the hardships and trials of life. We wonder why so many burdens fall at our feet and often we act on our limited human knowledge, not realizing that God is the fount of all things and is able to see with heavenly wisdom. We fail to see that He will carry us through the concerns we face in this earthly life, and so little by little we begin to lose some of the trust and faith that we thought we had. And this is precisely when Satan, our adversary, quietly steps in and put doubts within us, hoping to steal our shaky trust in God.
Our priority should be to place our trust always in God for there is only one cure-all that God gives us as Christian believers and that is having a strong trust in Him. This means refusing to be afraid and refusing to panic. When life challenges us, know there is Someone Who is always at our side, and that person is our heavenly Father, Who sees all things. He will give us courage when we are weak, and if it is His will and we trust Him, He will step in and make things right. Know however, it is through our earthly pains that we learn our suffering makes us stronger than ever in our faith, stronger because we know He is right there with us. So when we stumble through bad times, realize that God, with compassion, will lighten our loads with everlasting mercy and carry us safely through. Our worst days are never so bad that we are beyond the reach of God's grace.
Trusting God is the principle thing we as Christians must hold tightly to, for how can we serve Him if we do not trust Him? Trust does not mean relying or depending upon our humanity, but on Him, keeping in mind what Isaiah tells us in Isaiah 12:2, "Behold, God is my salvation; I will trust, and will not be afraid; for the Lord God is my strength and my song, and He has become my salvation."
The 17th century bishop of Geneva, Saint Francis de Sales tells: " Do not look forward to the changes and chances of this life with fear. Rather, look to them with full confidence that, as they arise, God to whom you belong will, in His love, enable you to profit by them. He has guided you this far in life. Hold fast to His dear hand, and He will lead you safely through all trials. When you cannot stand, He will carry you lovingly in His arms. Do not look forward to what may happen tomorrow for the same Eternal Father who takes care of you today will take care of you tomorrow, and every day of your life. Either He will shield you from suffering or He will give you unfailing strength to bear it. Be at peace then, and put aside all useless thoughts, all vain dreads and all anxious imaginations."
God does not lie and His Word is eternal. His love for us is unconditional and will never change. When we trust, we no longer rely on self but depend solely on His goodness, which is the source of our strength. And because we place ourselves in His Hands through trust, He blesses us with the gift of eternal life through the sacrifice of His Son, Jesus Christ. Are we worthy? No, not a single one of us is worthy but through His love He erases our transgressions through the shed blood of Jesus. But just believing in God has no complete value to us; we must have full trust which is the practical outworking of our Christian faith.
Pope Francis,. speaking at Vatican City (CNS) has this to say about trust in God: "Too many Christians have watered-down hope, lukewarm faith in God....there are too many "defeated Christians" in the church who do not fully believe in the faith handed down to them by way of tradition and who do not completely trust in God." Continuing, he says, "We know how to ask things of God, how to thank God, but to worship God, praise God, that's something more."

How strong is your trust? Do you place that trust in God? Would you let go of the 'rope' if God asked you to? When life becomes twisted and you cannot find a way out, will you give your burdens and trials to the Lord or will you strive to hang onto them by yourself? If you trust in God, then cut the rope.
"For I am the Lord, your God, who takes hold of your right hand
and says to you, Do not fear; I will help you." Isaiah 41:13.

I ASKED GOD
I asked for strength and God gave me difficulties to make me strong.
I asked for wisdom and God gave me problems to solve.
I asked for prosperity and God gave me a brain and brawn to work.
I asked for courage and God gave me danger to overcome.
I asked for love and God gave me troubled people to help.
I asked for favors and God gave me opportunities.
I received nothing I wanted and I received everything I needed.
- Author Unknown




Please use the link at the top left side of this page
to comment or be added to the mailing list.