BOREDOM IN HEAVEN?
Kathy Bernard - Publisher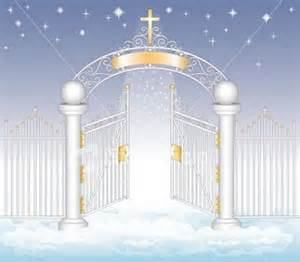 "The Eye has not seen nor ear hath heard what God has
prepared for those who love him." - 1 Corinthians 2:9



Have you ever thought about how it will be in Heaven? And considered that after all the glorious and heavenly things once sampled become mundane, Heaven will become boring?
Take a moment to reflect on the great joy of being in the presence of Almighty God Who created us, to finally meet Jesus Christ Who made Heaven possible for the faithful. We will stand before God, and look directly at His face; the face hidden from all mankind since the beginning of time. Read Exodus 33: 20-23 which tells, "Thou canst not see my face: for there shall no man see me, and live. And the LORD said to Moses, "Behold, there is a place by Me, and thou shalt stand upon a rock: And it shall come to pass, while My glory passeth by, that I will put thee in a clift of the rock, and will cover thee with my hand while I pass by: And I will take away Mine Hand, and thou shalt see My Back, but My Face shall not be seen."
Being human with human attributes, there is a part of us that wonders "what will we do with all this time in eternity? No television, no plays or movies, no pastimes, no hobbies, no excitements up there..... and the list moves on and on, and we forget the hardships, dissatisfactions, and pitfalls of earthly suffering and death.

Please think carefully that we as human beings live in time, but in Heaven there is no time. We will fully experience and live in an "eternal now". In Heaven, there will be no clocks. And imagine joy which surpasses all our earthly understanding for in Heaven there will be no time to be "bored". Every human feeling we feel here on earth, such as disappointments, pain, loss of loved ones, worries, etc. will be wiped away. All things that preyed on our earthly minds such as our families, our hobbies we love, and things we know and cherish on this imperfect earth comes from our creative humanity and also includes boredom. This is part of our humanity created by God Himself for our time on earth. When we get to Heaven, we will be "recreated" and all things we know here will no longer exist nor will we care about the loss. Time will no longer prevail. Our bodies will be transformed. Our earthly yardsticks cannot measure accurately the magnificence of what the Lord has planned for the faithful.
The state of knowing, the perception of fact and truth about God will be discerned and enjoyed by all those who entered heaven, and this is termed "Beatific Vision". http:llen.wikipedia.orgw/iki/Beatific_ Vision reads: "In Christian theology, the beatific vision (Latin: visio beatifica) is the ultimate direct self communication of God to the individual person. A person possessing the beatific vision reaches, as a member of redeemed humanity in the communion of Saints, perfect salvation in its entirety, i.e. Heaven. The notion of vision stresses the intellectual component of salvation, though it encompasses the whole of human experience of joy, happiness coming from seeing God finally face to face and not imperfectly through faith. Beatific means bestowing bliss, blessings and happiness. It means saintly peace."
Monsignor Edward A. Pace in the Catholic Encyclopedia (1907) defined Beatific Vision this way: "It is the immediate knowledge of God which the angelic spirits and the souls of the just enjoy in Heaven. It is called "vision" to distinguish it from the mediate knowledge of God which the human mind may attain in the present life. And since in beholding God face to face the created intelligence finds perfect happiness, the vision is termed "beatific."
Thomas Aquinas states beatific vision as the human being's "final end" in which one attains a perfect happiness. Thomas reasons that one is perfectly happy only when all one's desires are perfectly satisfied, to the degree that happiness could not increase and could not be lost. "Man is not perfectly happy, so long as something remains for him to desire and seek." But this kind of perfect happiness cannot be found in any physical pleasure, any amount of worldly power, any degree of temporal fame or honor, or indeed in any finite reality. It can only be found in something that is infinite and perfect – and this is God. The bible teaches that God "dwells in unapproachable light, whom no one has even seen or can see", but when God reveals Himself to us in heaven we will then see Him face to face." St. Thomas also tells, "We grow weary of sense goods when we possess them. Not so of spiritual goods. They do not diminish, they cannot be harmed, they give us a joy that is ever new." This joy we sometimes have in prayer. My Lord and my God, take from me all that impedes me on the road to Thee, give to me all that leads to Thee. Take me from myself and give me to Thee, that I may belong entirely to Thee." God penetrates the depths of our will. God seizes and wounds the soul, that it may possess Him fully."
In Heaven we will be free from all human weaknesses, our sins, all the heavy burdens and temptations of this earthly life, the sadness, the failure, the hurts inflicted, and the defeats we faced. We will rest in God's love and grace and with the eternal pleasure of performing God's heavenly assignments. All the things we have worked hard for, the slings and arrows we have faced will be no more. We will enjoy what the heavenly Father has planned for us. There will not be the darkness of night for we will be living in God's eternal light and never tire. St. Cyprian writes of the saved seeing God in the Kingdom of Heaven: "How great will your glory and happiness be, to be allowed to see God, to be honored with sharing the joy of salvation and eternal light with Christ your Lord and God... to delight in the joy of immortality in the Kingdom of Heaven with the righteous and God's friends".
There is a story about a sick and frightened man who turned to his doctor as he was leaving the examination room. "Doctor, I am afraid to die. I need to know what to expect when I go to heaven. Please tell me what lies on the other side." The doctor thought hard and in the end decided to tell this man the truth. He paused and said quietly, "I don't know." "You don't know?" screamed the patient, "Then why do you want to go to heaven?". The doctor became uneasy and wanted to escape the patient's questions. Nervously holding the handle of the door to leave, he stood there trying to think of some kind of assurance. Just then, from the other side of the door came a sound of scratching and loud whining. As the doctor opened it, a dog sprang into the room with his tail wagging furiously with an eager show of gladness to see his master. Turning to the patient, the doctor said, "Did you notice my dog? He's never been in this room before. He didn't know what was inside... He only knew that his master was here, and when the door opened, he ran in without fear. I don't know what is on the other side of death, but I do know one thing.... I know my Master is there and that's enough for me. When the door opens, I will pass through with no fear, but with gladness and joy."

Like the above story, we will run through the golden doors of heaven to the waiting arms of our Heavenly Father and Jesus, our Savior. They will call each of us by name as they embrace and welcome us to our eternal home. With love, they will say, "Well done, my good and faithful servants!" Will you be in that number?
No, there is no boredom in Heaven, for time as we know it, will cease to exist and standing on the promises of God, we will live in glory and happiness forever!
St. Paul writes in his letter to Timothy in 2 Timothy 4:7-8: "I have fought the good fight, I have finished the race, I have kept the faith. Now there is in store for me the crown of righteousness, which the Lord, the righteous Judge, will award to me on that day—and not only to me, but also to all who have longed for His appearing."



Jesus said to them, "Truly I tell you, at the renewal of all things, when
the Son of Man sits on His glorious throne, you who have followed
Me will also sit on twelve thrones, judging the twelve tribes of
Israel. (Matthew 19:28)


EYE HAS NOT SEEN
Marty Haugen
Chorus
Eye has not seen,
ear has not heard
what God has ready
for those who love Him;
Spirit of love, come
give us the mind of Jesus;
Teach us the wisdom of God.

When pain and sorrow weigh us down,
be near to us, O Lord,
forgive the weakness of our faith,
and bear us up within your peaceful word.

Our lives are but a single breath,
we flower and we fade,
yet all our days are in your hands,
so we return in love what love has made.

To those who see with eyes of faith,
the Lord is ever near,
reflected in the faces
of all the poor and lowly of the world.

We sing a mystery from the past
in halls where saints have trod,
yet ever new the music rings
to Jesus, Living Song of God<![if !vml]><![endif]>

Please use the link at the top left side of this page
to comment or be added to the mailing list.