CATHOLICVIEW has received many emails from Christians who are struggling with past sins. Though they asked for forgiveness, many think God has not truly forgiven them for their sinful path. Some believe they can never erase their actions nor rectify what they have done. Sadly, they refuse to see God's everlasting forgiveness, His undying mercy, and most of all, His precious love for every single one of us.
PLEASE know that our heavenly Father tells us our sinful past is no longer in the present, if we are truly regretful of our sins. They are totally erased, and no longer exist. Through our faith in Jesus Christ, Who paid for our sins at the Cross, know that He still stands today, over two thousand years later, with open arms to forgive all who have truly sorry. And He promises that all past sins are erased if we are truly repentant. Consider our Lord who cares that much for us He sent Jesus, His only Son, to come down to earth to pay for our sins. And He died for you and for me. If we have sinned and are truly sorry, God will eliminate our sins "…as far as the East is from the West, so far has He removed our transgressions from us." - (Read Psalm 103:12)

DOES this mean that we will never sin again? What happens if we sin after being forgiven? Life is not promised and we do not know when death will strike, so forgiveness is never a license to sin again and again. And it is not okay to sin beforehand, thinking we can be forgiven later. The Bible makes this very clear that forgiveness means we have been regenerated, released from past sin and that God wants us to remove ourselves from sin. Romans 6:1-2 tells us, "What shall we say, then? Shall we go on sinning so that grace may increase? By no means! We are those who have died to sin; how can we live in it any longer?" We may become weak and sin; but if we are strong in our faith, we will use our Free Will to make the choice to turn our backs on sin. God gave us that Free Will , and our choice to sin or not sin is left up to us. The most precious thing, though, is that we have Jesus, Who sees our battles with earthly sin. However, as long as we have breath within us, He is merciful to forgive again and again should we stumble and fall into sin again. Romans 3:23 tells us "Everyone has sinned; we have fallen short of God's glorious standard".
HOW can He love us this much? The incredible thing about God's love is that none of us merits His love. God gives us what we least deserve and that is called His mercy and His love. And if we have faith in Him, He will give us a brand new identity; one of hope and trust, with a desire to keep moving forward on God's path. We will feel an inner peace and cleansing, for He holds forgiveness and love in His hands for all who trust in His Word.
IN Vatican City, 9/13/2013, Pope Francis has this to say about God's Forgiveness: "…..."What is the joy of God? It is to forgive!" the Pope told the pilgrims, explaining that in this teaching "is the whole Gospel, it is all of Christianity! Forgiveness, he warned, "is not a sentiment – it is not 'feeling good' – on the contrary, mercy is the true force that can save man and the world from the cancer that is sin, bad morality or bad spirituality. …"
POPE FRANCIS continues, "Only love fills up the emptiness, the negative chasms that evil opens in hearts and in history. God alone is complete mercy and love, while each of us is the Prodigal Son who has "squandered his own freedom following false idols, mirages of happiness, and have lost everything. God does not forget us," The Father never abandons us. He is a patient Father. He always respects us. He respects our freedom but remains always faithful. Like the Father of the Prodigal Son, "when we return to Him, He welcomes us as children, in His house, because He never gives up waiting for us with love, not even for a moment. And His heart is in celebration for every child that returns. This "celebration" is found in the joy that God has "for each of us who returns to Him and asks His forgiveness. We need never fear approaching God, but should rather remember that God "always awaits us" when we seek his mercy.
"WE presume to be judges and we judge others," Pope Francis continues, "We judge God, too, because we think that He should punish sinners, condemn them to death, instead of forgiving them. The devil is shrewd, He deceives us with the idea that our human justice can save us and save the world. In reality, only the justice of God can save us! God's justice is very different from that proposed by the devil," the Pontiff tells. "The justice of God is revealed in the Cross." There we see how God judges: by "giving His life for us!" Jesus' sacrifice of His life on the Cross is the "supreme act of justice" and is "also precisely an act of mercy. Every Christian is called to this kind of mercy," exhorted Pope Francis. "Jesus calls all of us to follow this path: 'be merciful, as your Father is merciful." To read more visit this link: http://www.catholicnewsagency.com/news/forgiveness-is-the-joy-of-god-pope-says/
IF we accept Jesus Christ as our Savior, He promises to never stop forgiving us when we ask. Keep in mind that God wants us to forgive each other as well. The importance of this is shown in Christ's words, "As you forgive others, so I will forgive you" Matt. 6:14. The pardon for sins comes from Jesus Christ Who paid the price when He was nailed to the Cross at Calvary to make atonement for our sins. Through His death, Jesus took away the righteous wrath of God against the sins of His people, for all sin is the breaking of God's law for us.
SIN is highly prevalent in our lives today, and humanity does many things that are not pleasing to Almighty God. But Colossians 3:2 tells us, "Set your minds on things above, not on earthly things."
All of us have sinful natures, and we cannot repair our broken affinity with Almighty God by ourselves. Only Jesus Christ is qualified to do that for us. We must move forward, rejecting sin, remembering that Jesus stands waiting with mercy to help us through all things. As Catholic Christians, we have been redeemed, bought with a price through the blood of Jesus. Without faith and obedience to Him, know that we cannot enter the Kingdom of God. (Please read 1 Corinthians Chapter 6.)

<![if !vml]>

<![endif]>
Have mercy on me, O God, according to your unfailing love;
according to your great compassion blot out my transgressions."
- Psalm 51:1
<![if !vml]>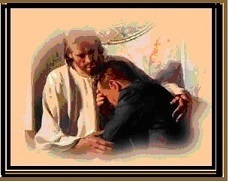 <![endif]>
"For the wages of sin is death; but the gift of God is eternal life
through Jesus Christ our Lord." - Romans 6:23
<![if !vml]>

<![endif]>


<![if !vml]>

<![endif]>
Please use the link at the top left side of this page
to comment or be added to the mailing list
<![if !vml]>
<![endif]>