2012 AWARD
FROM ROME, ITALY
TO
A CATHOLICVIEW






The Papal Basilica
Saint Paul Outside the Walls
Rome, Italy
Greetings in the Lord Jesus
For He is truly risen
Presented to
KATHY BERNARD
A CATHOLICVIEW WEBSITE
THIS medal commemorating SAINT PAUL the Apostle was laid on the tomb of the Apostle
during the nights of 11-12 April 2012 and blessed at
THE PATRIARCHAL BASILICA OF SAINT PAUL OUTSIDE THE WALLS - ROME, ITALY
"IN appreciation for your Internet Ministry of the Word of God, proclaiming the
Gospel of Jesus Christ to the ends of the earth.
MAY the inspiration and spirit of Saint Paul the Apostle continue to fill you with
joy and strength in your God-given ministry."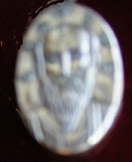 THE picture on the plaque is the actual tomb of Saint Paul that is below the "high altar" (the center altar) of the Basilica. The medal rested on the tomb of Saint Paul in Rome. The man in the Picture is Cardinal Francesco Monterisi, the Archpriest (the pastor) of the Basilica who certified the authenticity of this Saint Paul medal.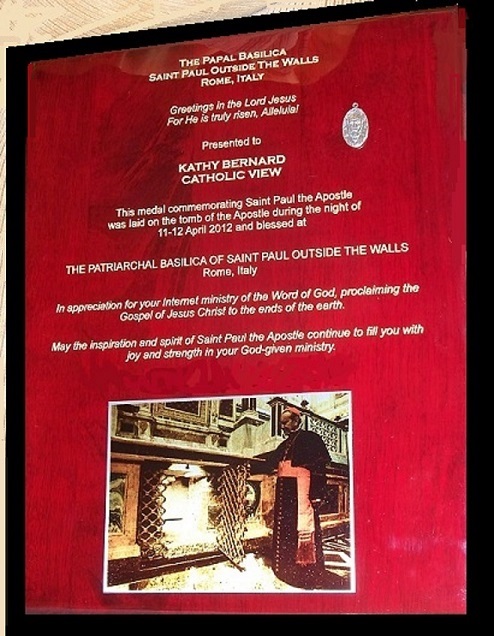 <![if !vml]>
<![endif]>Kathy Bernard began publication of "A CatholicView" in 1998. Within a few weeks, A CatholicView received inquiries from around the world. The site took root and over the years literally thousands of questions needing answers and positive comments flooded through email. With the help of many priests around the world who generously volunteer their valuable time for the "Ask A Priest" category, and the timely monthly articles written by the publisher, A CatholicView remains a constant for those who faithfully visit the site.